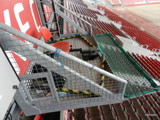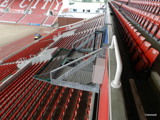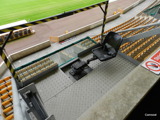 Balcony Systems offer a camera position that does not affect spectator viewing or require removal of seats.
The Camseat 180-BS can provide a camera position that does not require the removal of any spectator seats and does not affect spectator views. The system works on a cantilever that can be fitted over a stand wall.
The Balcony System is individually manufactured to suit the requirements of a specific need, The basic design remains the same for any location, however, the dimensions may change. Calculations are supplied prior to installation as certain checks have to be made.
Camseat Range
The Camseat range is designed to accommodate almost every situation, be it fixed in a stadium, scaffold, tower mounted, or OB and studio type situations.