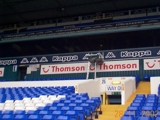 Our Turnkey solutions are in use at Manchester United, Chelsea and Real Madrid
In many stadia there are certain television shots required which will always cause restricted views. Here at Camseat we have been able, due to our engineering and fabrication experience, to overcome this by designing specific units and support systems so that there is no restriction at all.
There are Turnkey solutions created by Camseat found at Manchester United (Old Trafford), Chelsea (Stamford Bridge) and Real Madrid (Santiago Bernabéu) to name just a few.